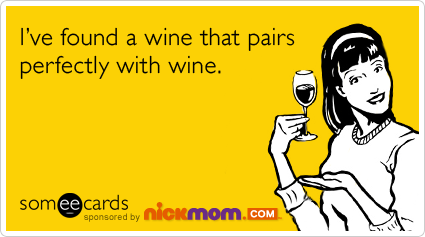 Happy Wine Wednesday Ladies!!!!!!!
Can I tell you I am super excited about going to my favorite restaurant/bar and have 1/2 bottle(s) of wine tonight!!!! I picked my outfit out last night! I guess this is what it is like for almost thirtysomethings do now haha. I remember going to Charlotte Russe in Columbia every Thursday to buy my going-out outfits for the weekend when I was in college then go out all weekend drinking shots and beer. Oh how the tables have turned, now I go out one night every few weeks for wine. And no my dress is not from Charlotte Russe it is from Old Navy :) Truth be told I do not think I could fit into anything from there any more!
I am going with my sister by another mother Ashley :) Cannot wait!!! I even think Ms. Danielle will be making an appearance as well. They haven't met yet and who doesn't love meeting over a glass(es) of wine :) Wednesday is turning into a favorite day of mine!